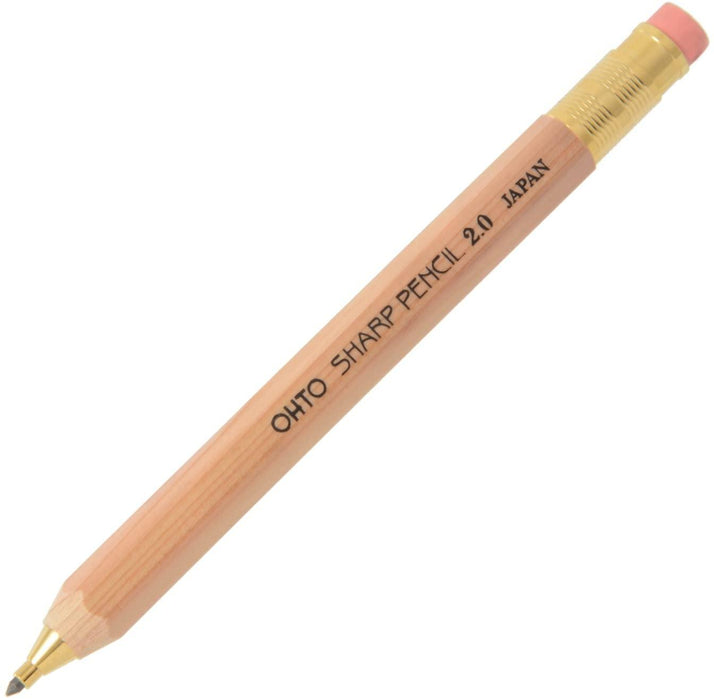 OHTO Sharp Pencil 2.0-Wooden Mechanical Pencil Lead Holder-2.0mm
Original price
$0.00
-
Original price
$0.00
Availability:
Out of stock
Availability:
Only 13 left!
Availability:
Only 13 left!
Availability:
Only 13 left!
Availability:
Only 14 left!
OHTO Sharp Pencil is a classic Japanese item - a mechanical pencil designed to look like the wooden pencils it replaces, and brilliantly - it's made from a wooden pencil!
For those who crave the classic look of a wooden pencil but need the convenience of a modern mechanical pencil, Ohto's wooden mechanical pencil lead holder is the perfect fix. It has a genuine wooden outer body topped with a pink rubber eraser. The body is even coated in a classic, subdued color to complete the likeness. Inside, it houses a 2 mm lead that advances in increments when you click the eraser. This lead holder's barrel is much wider than a traditional pencil, so it's easy to hold while writing or sketching for long periods. It's also great for people who tend to press down hard—the thick lead is hard to break!

A real hexagonal cedar pencil barrel, drilled out to accommodate a mechanical pencil mechanism. There's a brass tip for the lead, and a traditional ferrule around the top of the pencil, with a replaceable eraser. 2mm lead. Product dimensions 0.4 x 5.4 x 0.4 inches. Five classic barrel colors with blocked writing complete a pleasingly retro look.