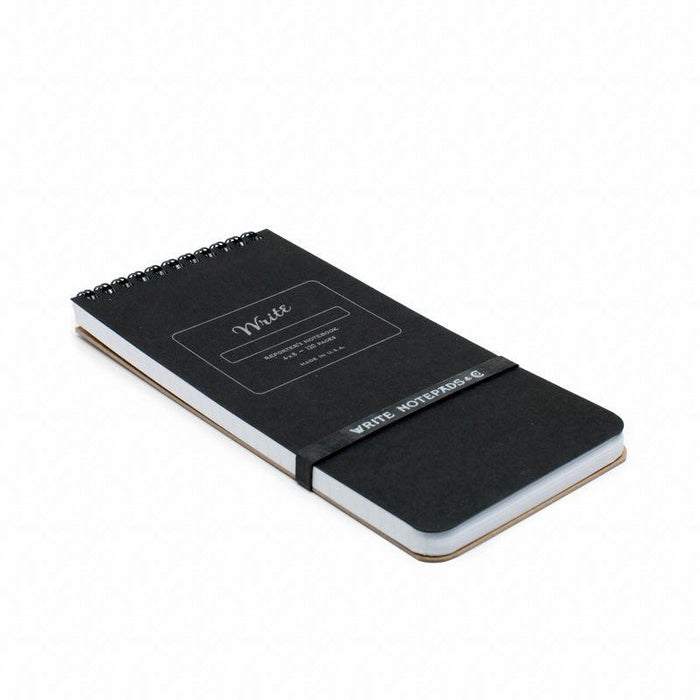 Reporter Notebook
Original price
$0.00
-
Original price
$0.00
Write Notepads & Co. Reporter Notebook
In the fast-paced world of professionals, where every detail matters, the right notebook can make all the difference—Introducing the Reporter Notebook – a blend of tradition, functionality, and style tailored for those who value the art of writing.
Why the Reporter Notebook is Your Perfect Companion:
Exceptional Writing Experience: Our meticulously sourced premium paper offers a buttery-smooth writing surface. Whether using a pencil for quick sketches or a fountain pen for detailed notes, this high-quality reporter notebook ensures every thought is perfectly captured.

Built for the Long Haul: We understand the demands of a professional notebook; our robust double-O wire binding is engineered to resist the challenges of daily use. The transition from the frustration of lost pages to the reliability of a durable notebook designed to match your tenacity.

Security with Style: Our natural rubberband closure not only safeguards your invaluable notes but also infuses elegance into your compact notebook. It's a subtle nod to the blend of tradition and modernity that Write Notepads & Co. stands for.

Timeless Design for the Modern Professional: With its clean lines and sophisticated aesthetic, the Reporter Notebook is more than just a writing tool—it's a statement. It speaks of a professional who values quality, attention to detail, and has a penchant for classic elegance.
A Little Extra for You: As professionals, we know you're always on the move. Our Reporter Notebook is compact, making it easy to slip into a bag or briefcase, ensuring you're always prepared for an impromptu meeting or a scheduled interview.
In a digital age, writing is intimate, personal, and powerful. With the Reporter Notebook, you're not just buying stationery but investing in an experience, a tradition, and a tool that will be with you through every professional milestone.
Make the choice today. Elevate your writing experience with Write Notepads & Co.
Features

Sophisticated, professional look, minimal cover design.
Convenient travel size
4" x 8" spiral notebook with lined pages
5.6 oz.
Durable rubber band closure to keep your loose papers secure
Colors: Made with 80pt board stock black. Kraft cover: Recycled paper, thicker cover. 
Letterpress impression.  
120 interior pages 
Printed line size 1/4", printed with vegetable-based inks 
Designed, printed, and assembled in the USA. 
Dimensions/Weight

DIMENSIONS/WEIGHT:

4" x 8" spiral notebook with lined pages
5.6 oz.