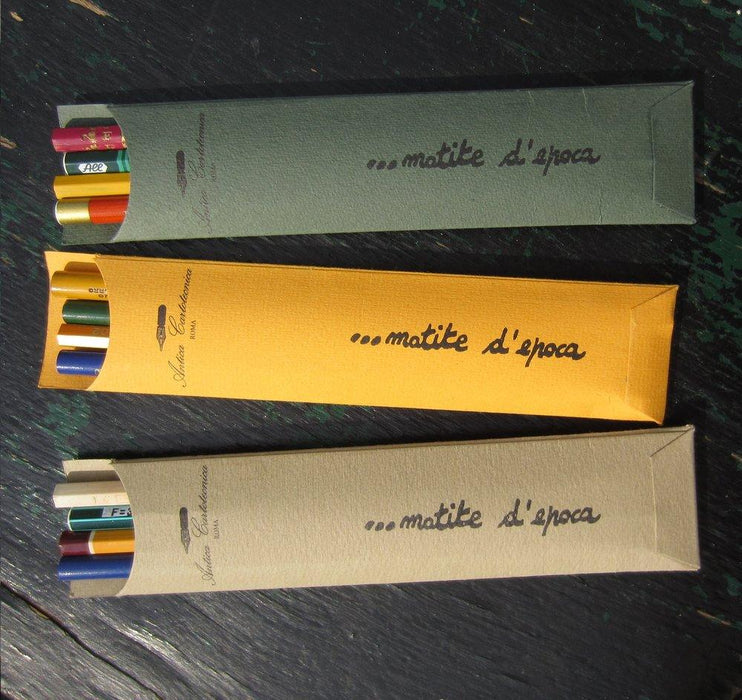 Antica Cartotecnica Vintage Pencils - Assorted 4 Pencils
Sold out
Original price
$ 18.00
-
Original price
$ 18.00
Availability:
Out of stock
Prepare to infuse your stationery collection with a dash of retro elegance with Antica Cartotecnica Pencils! Every set is uniquely presented in a sophisticated pouch crafted from traditional card stock, available in hues of tan, yellow, or green. Not only do these pencils boast an aesthetic appeal, but they also offer high functionality - their length varies between 6.5 and 7.5 inches, making them a perfect fit for any notebook or journal! Don't let this opportunity pass - secure your timeless artifact today!
Each package is a treasure trove of distinct vintage pencils, each featuring a unique mix of graphite and colored lead. Moreover, the stylish pouch accompanying each set is made from exquisite vintage card stock, ensuring your pencils are always displayed at their finest.
Please note, the assortment is chosen at random.
Antica Cartotecnica Pencils are vintage pencils with an old fashion style that come in a set of 4 and are placed in an elegant pocket that is made from vintage card stock (the card stock color varies - it can be tan, yellow, or green).
Each set is unique since they come in a variety of color assortments.
The pencils have a nice blend of aesthetics and functionality.
The pencils range in size from 6.5 inches to 7.5 inches. Perfect to use on stationery books and journals.
Material: Wood