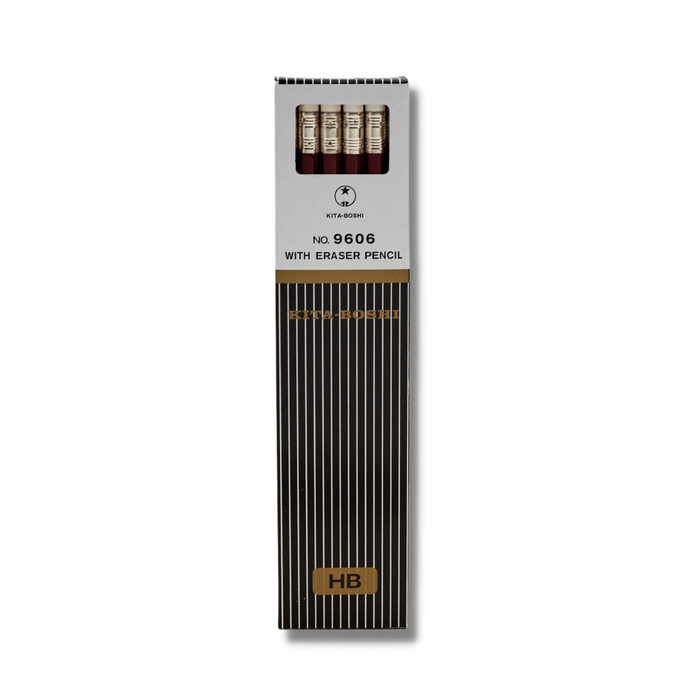 Kita-Boshi 9606 Pencils HB with eraser
Original price
£0.00
-
Original price
£0.00
Availability:
20+ in stock, ready to be shipped
Availability:
Only 12 left!
The Kita-Boshi 9606 pencils HB with eraser - is the ultimate writing tool for those who demand quality, performance, and convenience. These pencils have received rave reviews for their high-quality graphite, smooth application, and attached eraser.
Crafted with precision and care, the Kita-Boshi 9606 pencils are perfect for taking notes, drafting ideas, or sketching your next masterpiece. The HB graphite has an ideal balance between light and dark tones, allowing for precise shading and detailing.
But the attached eraser sets these pencils apart, making it easy to make corrections on the go without carrying a separate eraser. It's the ultimate tool for anyone who demands a clean, precise writing experience.
If you demand only the best, the Kita-Boshi 9606 pencils HB with eraser is the writing tool for you. Experience the difference that a Kita-Boshi pencil can make in your work today.
Check out the Pen Addict Review.
FEATURES:
Versatile and suitable for various writing and drawing applications
The Kita-Boshi 9606 pencils offer budget-friendly value when bought as a dozen.
High quality cedar wood which sharpens well and lasts for long periods of use
Plush eraser on the end of each pencil for efficient erasing
Burgundy casing, bright white eraser, and "General Use Kitaboshi" and "Academic Writing" printed on the back
Comes with its own style, which reflects the idiosyncrasies and passion of its small, family-owned manufacturer
Made in Japan