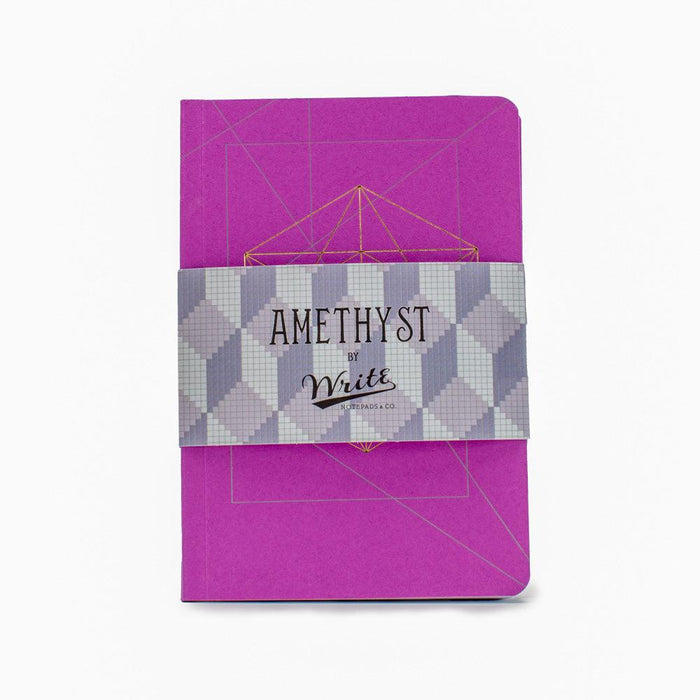 Amethyst
Original price
£0.00
-
Original price
£0.00
Availability:
95 in stock, ready to be shipped
To the ancient Greeks, it was considered an antidote against drunkenness. To the Tibetans, it was deemed to be sacred. In the Middle Ages, it was only allowed to be worn by royalty. As one of the Old World's Cardinal Gems, it was one of five gems considered more valuable than all others until Brazil was found to have stockpiles of it. For our latest Limited Edition pocket notebook, we chose the gem known as Amethyst for inspiration. As we searched for a theme for our next limited edition, we searched long and hard for something unique. We wanted foil on the cover and to incorporate some neat design features.
The choice of the gem Amethyst came from the selection of the paper. The French Paper Company released a limited edition paper stock some months ago. French Paper's VIVITONE Plum Punch is a  beautiful purple that gave us so many ideas. One, the Amethyst gem fits us personally so much. With the help of our production assistant, we came up with a geometric design we feel interprets the concept of the Amethyst gem. The cover incorporates both letterpress and foil geometric design elements. As always made with our excellent paper suitable for pens and pencils. 
FEATURES:
Three pocket notebooks
3.75" x 5.5" glue-bound notebook with gold foil impression. 
64 pages of heavy, smooth 70# paper stock
Printed with vegetable-based inks
100% American-made in Baltimore, MD
Limited quantity available (700)