One Journalist's Search for the Perfect Reporter Notebook
---
One Journalist's Search for the Perfect Reporter Notebook
---
AUTHOR Tim Newcomb / CATEGORY Product / PUBLISHED: SEP-23-2019
Tim Newcomb is a freelance journalist based in the Pacific Northwest who has written regularly
about sports aesthetics and gear, sneakers, stadiums, infrastructure and architecture for TIME,
Sports Illustrated, Wired, Popular Mechanics, Forbes, Complex and many more.
I've tucked a reporter notebook in my back pocket on assignments across the world ever since my days as a high schooler learning the craft. That 4-inch narrow width comes perfect for sliding the notebook in virtually any pocket while also fitting ideally in my hand for notetaking while standing, walking or maybe even perched, as I sometimes find myself when exploring yet unopened new stadiums.
And even while much of my work revolves around my laptop and phone, nothing replaces the importance of a notepad when on the move during an assignment, whether walking the factory floor of a major footwear manufacturer, touring the world's largest nuclear waste cleanup site or spending the day with a nine-time Grand Slam tennis champion at the US Open in New York. I need to move unencumbered and at times have both hands free, but be ready to take notes the next moment.
Having grown tired of cheap versions, chosen simply based on size and price, I went on a search to find the best reporter notebook available. That search proved easier than researching a typical article. And loads more fun.
The important aspects, at least for me, in a reporter notebook come down to a few things: size, construction, quality and, if all others are equal, style. In order for me to use the notebook, not only must it be narrower than 4 inches in order to fit in a back pocket, but that size also makes it easier for me to hold in one hand while I take notes on the move. The typical 8-inch height also makes it tall enough to handle notetaking that doesn't require constant page-flipping. For construction, I need a spiral bound on the top of the notebook for ease of writing, ability to flip pages quickly and get them fully out of the way (not having a spiral bound at the top, a common construction, makes the notebook a nonstarter) and a quick release of the notebook in and out of said pocket.
In all reality, finding a notebook with these two distinctions isn't as common as you'd think, quickly narrowing down the suitors for the best reporter notebook.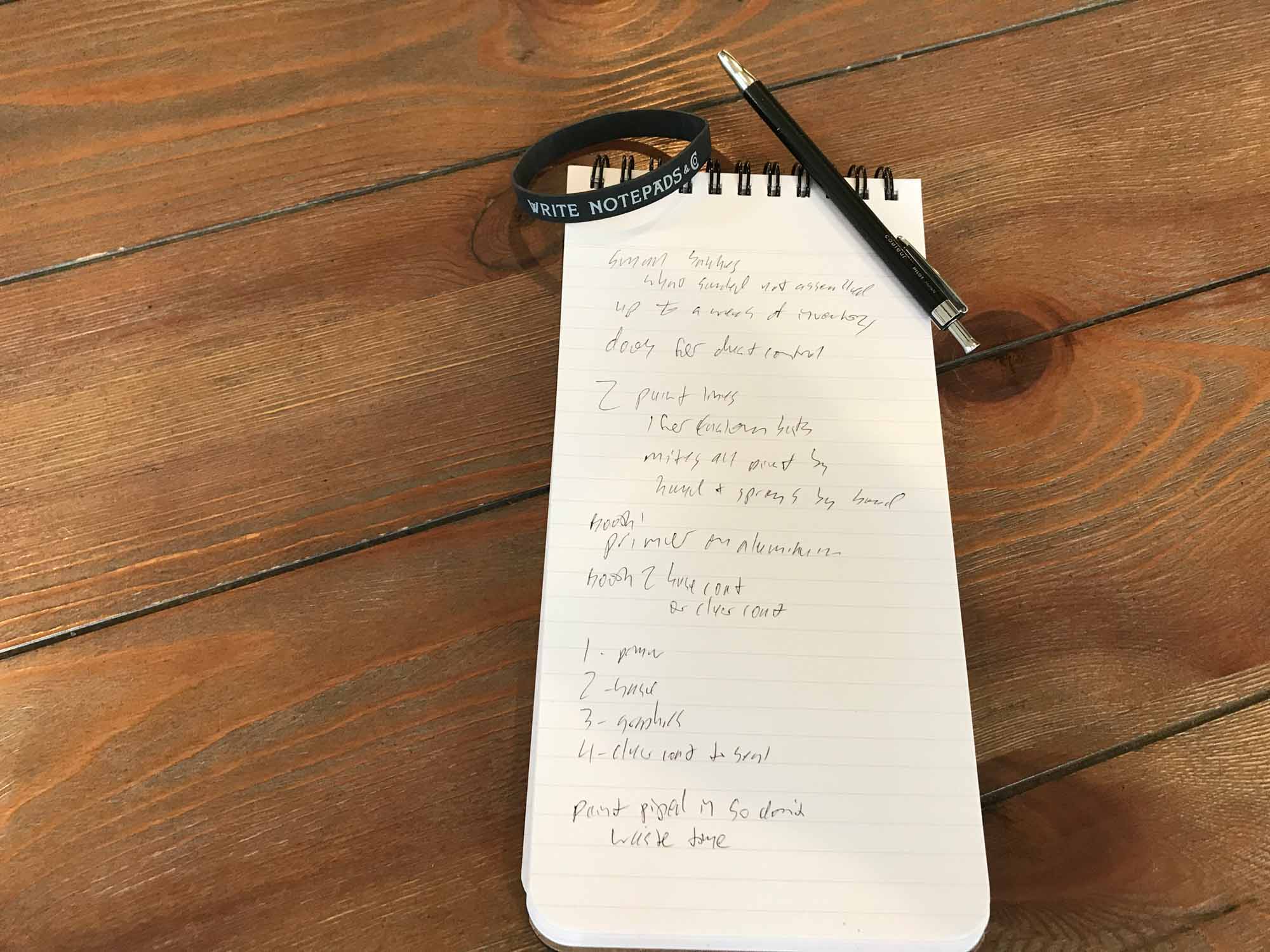 Next comes quality. The mass-produced reporter notebook, the kind I had used for far too many years, lacks in quality. Sometimes, though, you get what you pay for. The pages prove incredibly thin and come hard to grab and often tear when flipping, if they can even manage a full flip. The spiral bind, at times, unwinds right out of the notebook. The board on the back comes too thin, making for a flimsy foundation to write on, slowing down the writing and making it more difficult. The thicker the backing, the better.
During my search, I tracked down a mixture of products, testing them in real-world situations, not even using my fourth aspect, style, as part of the equation. Write Notepads was the distinct winner. It wasn't even a competition. The inexpensive varieties had the perfect size and construction, but the quality was too inferior to make them worthwhile. Some of the major brands on the market couldn't produce a notebook with both the proper size and construction and when they did, skimped on the quality compared to Write.
With the three main boxes checked, it offered a bonus that Write clearly ruled the day when it came to style. The Write versions come classic, perfectly so. I gravitate toward the classic, especially using the product professionally, as I don't want anything cutesy or kitschy that would cause me to stand out or look amateurish. I prefer Write's all black but have also mixed in some blue and pistachio for good measure, giving Write an easy first-place spot in all four categories, a decisive winner.
Now, when my reporting draws me away from my laptop and I slide a notepad in my back pocket headed out on another assignment, I have confidence I've chosen the best one for the job. For my job.
Follow Tim Newcomb on Twitter at @tdnewcomb.